Residential Carpet
Ask anyone who prefers carpet to hard flooring why they lean that way, and you just may become a fan yourself. Offering the lush comfort and warmth that all other flooring options lack, the right carpet provides an air of inviting luxury to almost any residential space. With an ever-widening array of styles, textures, colors and patterns, carpet is once again becoming a popular choice for homeowners. Quieting bedrooms, family rooms, basement areas and living rooms, deep, plush carpet adds the perfect amount of welcoming serenity to any atmosphere.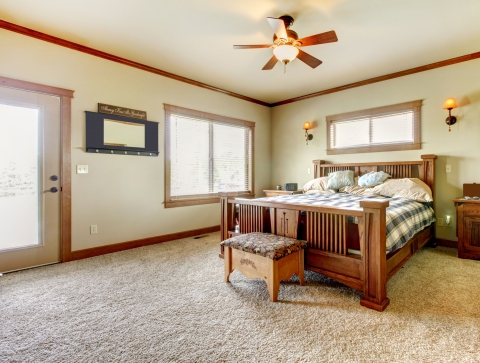 Carpet is a great choice for any home.
There are so many reasons to choose carpet for your home. Here are just a few of them:
Style – Carpet is available in so many different textures and styles that it's easy to find an option that will compliment your home's existing style, or take it to the next level.
Comfort – More than any other flooring option available, carpet can add comfort to your home. Not only is carpet soft and plush to the touch but it will help to insulate your floors, keeping your home at a more comfortable temperature and helping to reduce your energy bills.
Noise Reduction – If you're looking for an effective way to make your home a little quieter without having to soundproof your walls, carpet is a great way to go. When you compare carpet to the other flooring types, its ability to reduce noise is astounding. For example, carpet can reduce the noise caused by walking by anywhere from 25 to 34 decibels, while laminate flooring only reduces it by one to six decibels.
Air Quality – Did you know that installing carpet in your home could actually help to improve your indoor air quality? That's right, carpet actually helps to filter out the air, trapping dust, dirt, allergens and other pollutants that would otherwise breathe in. No other flooring type offer this kind of air filtration.
Safety – For added safety in your home, carpet is a great choice. Hard surface flooring options can be slippery, increasing the risk of falls, slips and other accidents at home. Not only does carpet help to reduce the risk of these kinds of injuries at home, but it also helps to cushion the blow so that, if falls do occur, you're less likely to get hurt.
Cost – One of the biggest benefits of carpet is the cost. There are, of course, more expensive carpeting options, but in general, it's one of the more affordable choices at your disposal.
Turn to Floor Expo Inc. for a wide range of carpeting options.
Floor Expo is your source for all things flooring in New Jersey and beyond. We offer a variety of carpeting options from the industry's best brands, including Mohawk, Masland Carpets & Rugs, Karastan and more. Best of all, our professionals have the experience and expertise to help you find the best design for your tastes, preferences and needs, and since our design consultations are free, we'll do so at no cost to you!
Whether you choose to carpet just your bedrooms or would like to upgrade your whole home with inviting carpet, we can help. We'll help you decide on your favorite look while guiding you towards an option that works for your family's budget.
Find out why your friends and neighbors continue to choose us as their favorite local flooring store by requesting your free quote now. We promise expert service with a smile.
As New Jersey's favorite carpet and flooring store, we proudly offer the following brands: