Commercial Carpet Tile
Holding up to both heavy traffic and rigorous use, commercial carpet tile is the preferred choice for many business owners who are looking for a soft commercial flooring option. Offering durability as well as comfortable usability, carpet tile flooring is an affordable option that is both versatile and attractive.
Available in a variety of colors, patterns and textures, carpet tiles are easy to install and even easier to replace. Damaged or stained tiles can be removed one by one, allowing business owners to avoid the high cost of complete carpet replacement. Easy to maintain, carpet tiles can be kept looking their best with just standard carpet cleaning techniques.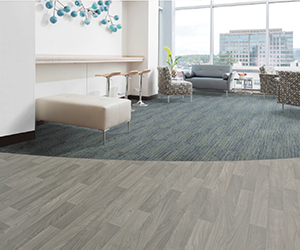 Carpet tile flooring works best in the following areas:
Offices
Conference rooms
Hallways
Movie theatres
Libraries
Restaurants
Lobbies
Common areas
Waiting rooms
Discover the many benefits of carpet tile flooring by requesting your free quote now. We promise a prompt and courteous response by a friendly and knowledgeable professional.
We proudly offer the following brand manufacturers: