Commercial Carpet
Welcome your visitors, customers and employees with the lush warmth of commercial carpet. Done right, carpet can be a feasible option for practically any business, allowing you the same level of luxury and comfort that one would expect to feel at home. From level loop carpeting to frieze and berber, carpet is experiencing a resurgence in the workplace as business owners once again begin to recognize its benefits and value.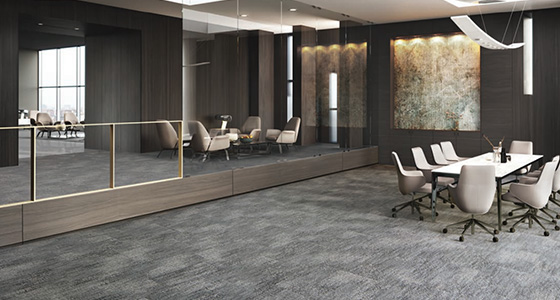 Commercial carpeting is a great option for any business.
There are so many reasons to choose commercial carpeting for your business. Here are just a few of them:
Style – When it comes to carpet, you have an endless number of colors, patterns and styles to choose from. With carpet, it will be easy to match your new flooring to your business's existing style.
Noise Reduction – It's never easy to be productive in a noisy environment, and with phones ringing, people talking and all of the other common noises in your typical business, the unique, noise-absorbing qualities of carpet make it the perfect option for commercial spaces.
Low Maintenance – Commercial carpet — which is much more durable than residential carpet — is designed to stand up to everything from heavy foot traffic to stains. Other than vacuuming and an occasional, professional carpet cleaning, you won't have to do much to keep your commercial carpeting looking like new.
Air Purification – With so many people going in and out of your business all day every day, there is bound to be a host of pollutants and allergens in the air. Luckily, commercial carpeting helps to filter out those pollutants, keeping the air you and your staff breathe purer. Carpet will help to keep allergens out of the air that cause people to feel sneezy and itchy, and it may even help to keep your staff healthier during cold and flu season!
Affordable – No business wants to spend more than they have to on flooring, and commercial carpeting is one of the best, low-cost options at your disposal. With commercial carpeting, you get a lot of bang for your buck. Not only is the cost of every square footage of carpet generally lowest of any commercial flooring option, but installation often doesn't require a lot of floor preparation, which can also help you save more.
Depending on traffic and use, carpet can be a viable flooring option for the following areas:
Offices

Conference rooms

Hallways

Movie theaters

Common areas, such as lobbies and waiting rooms

Libraries

Restaurants
Turn to Floor Expo Inc. for a wide range of commercial carpeting options.
When you're ready to start experiencing the many benefits of commercial carpeting in your business, there's no better company to turn to than Floor Expo. We carry a huge selection of commercial carpet from the best brands in the industry, including Mohawk, Mannington, Shaw Contract and more. And, you can see all of our options for yourself when you stop by our flooring showroom in Fairfield. Best of all, we offer free design consultations, and our experts can help you determine which option will be the best fit for your needs.
Discover why so many area business owners are choosing carpet by requesting your free quote now. We promise a prompt and courteous response delivered by a friendly and knowledgeable professional.
As your favorite carpet and flooring provider, we proudly carry the following brand manufacturers: